I woke up, got ready for work, packed a lunch, and called in sick. I figured I could stay home and be productive while I started feeling better. Such good intentions...
I made a necklace for Stephanie. She has been sewing a shirt with a lime green and black polka dot fabric (it's cuter than it sounds!) She didn't like the beads I was picking out the other day, but told me that she doesn't "see" things and to do what I was inspired to do. She saw the necklace this morning and her eyes got all big and excited. She loves it. And, it looks awesome with her shirt!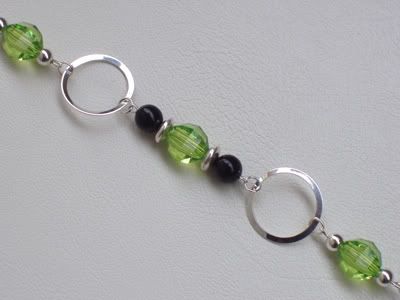 I also ran to Walmart to buy a battery for my keyless remote. Using a key is really inconvenient when you're used to just clicking a button. Lazy and pathetic, I know. LOL
I was also looking for some baskets or boxes for my scrap closet and found some at Michaels. Got them home and they're like 1/4" too big. Sigh. I already had to make 2 stops there today. Once to buy them, and then a few minutes later because she only charged me for two of them. They do fit nicely in the drawers in the bathroom though and it would be pretty great to keep those better organized, so I guess I won't worry about returning them.
My
Etsy
store had it's first sale today!!! Wahoo! One of the things I intended to do today was to take photos of more items so that I could get them listed. Sigh.