I sold a necklace today with a little help from
BabyBoss
. Gavin and Laura have such a fun shop and some great items for babies. I don't have babies, but I do have poor descriptive writing skills. LOL. Luckily, Gavin is a master at doing just that. I made a small investment for the good of my
shop
and bought their 'ad copy service.' We then collaborated on the details of the necklace and He came back with a totally awesome description. I updated the description, relisted the item, and had it sold within 12 hours!!! See for yourself: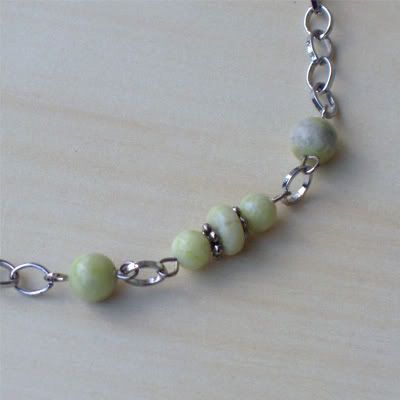 Serpentine was prized by ancient civilizations, revered for its mystical healing and protective powers and was believed to bless the wearer with wisdom and harmony. What better way to fill your world with peace, with health and with love – the cornerstones of a happy, vibrant life – than through this truly special, and appropriately named, work of art.

Smooth beads in subdued hues of creamy green are connected by a delicate chain, and its elegant 34" length makes it perfectly appropriate for a casual afternoon spent with close friends or an evening alone, reconnecting with that special loved one.

Perfect as a gift, or as a special treat for yourself, Vitality is certain to bring serenity to your life and elicit compliments from admirers.