I finished my rag quilt today and it's so stinking cute!!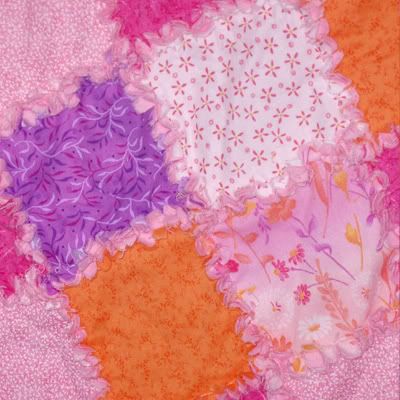 Rag quilts are generally made by sewing together 'sandwiches' composed of 2 layers of fabric with batting or a layer of flannel in between. I wanted this one to be lightweight, but snuggly, so I have cotton prints on the front and pink flannel on the back.
Rag quilts are also generally stitched diagonally from corner to corner, forming an X on each piece. I cut all the squares a couple weeks ago and got them all sewed together with the X's and HATED it! These pieces are small enough that they don't require stitching within the squares, so I unpicked all of them and sewed the blanket without the diagonal stitching. Sunday, I sat down and got it sewn together and started cutting the exposed seams. Monday, I went and bought a new pair of scissors to save my hands. LOL (If you're going to make a rag quilt, I HIGHLY recommend getting a pair of spring-loaded scissors. Your hands will thank you for it!)
I want to get some better photos taken before I post this on
Etsy
, but I'll have to wait on that. It seems I can only get good photos between 9:00-11:00 AM and I happen to be at work during that timeframe. Ugh.