My day started out like this: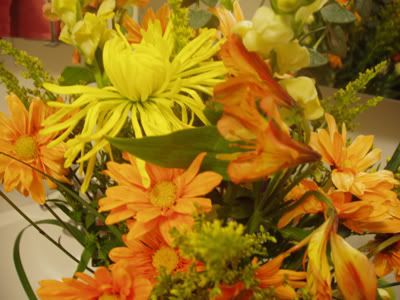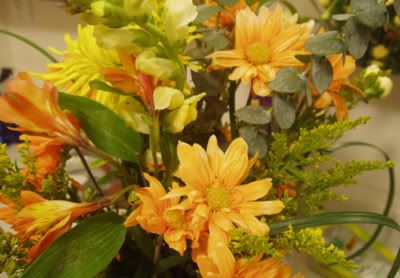 which made me cry. Well, that and the sweet note that was tucked in the flowers. I've never been surprised with flowers until now. It was so sweet!
On this, my twenty-seventh birthday, I thought I'd share 27 things about me...
1. I am the oldest of four children.
2. I run a cool-air humidifier every night for the white noise.
3. I can't stand to watch buildings be demolished. It's maybe the weirdest thing about me, but I get crazy-emotional when I see a building being torn down.
4. I am allergic to bandaids and black leather sandals and latex.
5. I've never been kissed.
6. I share my home, car, clothing, and bank account with my sister.
7. My coworkers call me Evily. Sometimes abbreviated to Evil or Eve.
8. I've had scrapbook pages published in Scrapbooks Etc. and Creating Keepsakes.
9. I can't relax in a messy house and I actually enjoy cleaning. Usually. This week certainly doesn't reflect that.
10. I make my bed first thing every morning.
11. I detest having colored polish on my fingernails. Toenails are okay though.
12. I really don't like going out to eat. Or to the movies.
13. I've lived in my apartment for 6 years. It's the longest I've lived anywhere. I moved 21 times in my first 21 years.
14. I rarely cry.
15. I only watch TV when my favorite shows come out on DVD. (The Office and Bones are my current favorites).
16. I fall asleep when I read out loud. Maybe the sound of my own voice is soothing. LOL.
17. I do something creative everyday: beading, scrapbooking, sewing, etc.
18. I am a fast learner and have taught myself most of the things I know.
19. I love getting a good deal. I keep a wish list and wait for the things I want to go on sale.
20. I'm obsessively punctual. I'd rather miss something than show up late.
21. I sometimes joke that my life's mascot is a chicken. It's not really a joke. I let fear hold me back a lot.
22. My favorite hobby is decorating my home, but it's also the most expensive and there are only so many rooms to decorate, so I rarely let myself do it.
23. I like animals from a distance. I once had a panic attack because a playful puppy wanted to lick me.
24. I'm definitely a morning person. I have a hard time staying up past 11:00pm.
25. I don't really get 'into' holidays and I dislike Christmas.
26. I won't do something unless I can do it with sincerity.
27. I've never gotten what I wish for when blowing out my candles, but I know I will one day :)